Desalination and seawater quality at Green Point, Cape Town: A study on the effects of marine sewage outfalls (with corrigendum)
Leslie Petrik

Environmental and Nano Science Group, Department of Chemistry, University of the Western Cape, Cape Town, South Africa

Lesley Green

Environmental Humanities South and Department of Anthropology, School of African and Gender Studies, Anthropology and Linguistics, University of Cape Town, Cape Town, South Africa

Adeola P. Abegunde

Environmental and Nano Science Group, Department of Chemistry, University of the Western Cape, Cape Town, South Africa

Melissa Zackon

Environmental Humanities South and Department of Anthropology, School of African and Gender Studies, Anthropology and Linguistics, University of Cape Town, Cape Town, South Africa

Cecilia Y. Sanusi

Environmental and Nano Science Group, Department of Chemistry, University of the Western Cape, Cape Town, South Africa

Jo Barnes

Senior Lecturer Emeritus, Division of Community Health, Stellenbosch University, Stellenbosch, South Africa
Keywords:
microbial pollution, pharmaceuticals, perfluorinated compounds, common household chemicals, marine organisms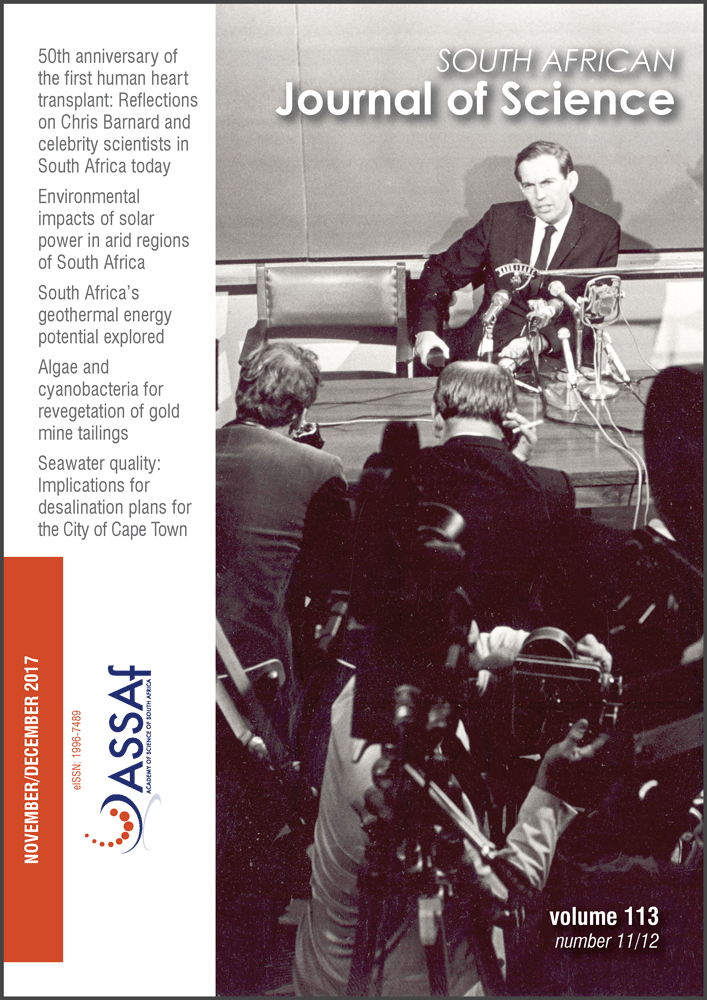 How to Cite
1.
Petrik L, Green L, Abegunde AP, Zackon M, Sanusi CY, Barnes J. Desalination and seawater quality at Green Point, Cape Town: A study on the effects of marine sewage outfalls (with corrigendum). S. Afr. J. Sci. [Internet]. 2017Nov.29 [cited 2020Sep.18];113(11/12):10. Available from: https://www.sajs.co.za/article/view/3854

All articles are published under a Creative Commons Attribution 4.0 International Licence; copyright is retained by the authors. Readers are welcome to reproduce, share and adapt the content without permission provided the source is attributed.
Disclaimer: The publisher and editors accept no responsibility for statements made by the authors