Exploring South Africa's southern frontier: A 20-year vision for polar research through the South African National Antarctic Programme
Isabelle J. Ansorge

Department of Oceanography and Marine Research Institute (Ma-Re), University of Cape Town, Cape Town, South Africa

Paul Skelton

South African Institute for Aquatic Biodiversity, Grahamstown, South Africa

Annie Bekker

Department of Mechanical and Mechatronic Engineering, Stellenbosch University, Stellenbosch, South Africa

P.J. Nico de Bruyn

Mammal Research Institute, Department of Zoology and Entomology, University of Pretoria, Pretoria, South Africa

Doug Butterworth

Department of Mathematics and Applied Mathematics, University of Cape Town, Cape Town, South Africa

Pierre Cilliers

South African National Space Agency, Hermanus, South Africa

http://orcid.org/0000-0003-3175-5134

John Cooper

Antarctic Legacy of South Africa, Department of Botany and Zoology, Stellenbosch University, Stellenbosch, South Africa

Don A. Cowan

Centre for Microbial Ecology and Genomics, University of Pretoria, Pretoria, South Africa

Rosemary Dorrington

DST/NRF Research Chair in Marine Natural Products, Department of Biochemistry and Microbiology, Rhodes University, Grahamstown, South Africa

http://orcid.org/0000-0002-8694-367X

Sarah Fawcett

Department of Oceanography, University of Cape Town, Cape Town, South Africa

http://orcid.org/0000-0002-0878-6496

Susanne Fietz

Department of Earth Sciences, Stellenbosch University, Stellenbosch, South Africa

Ken P. Findlay

CPUT Research Chair: Oceans Economy, Department of Conservation and Marine Science, Cape Peninsula University of Technology, Cape Town, South Africa

William P. Froneman

Southern Ocean Group, Department of Zoology and Entomology, Rhodes University, Grahamstown, South Africa

Geoff H. Grantham

Department of Geology, University of Johannesburg, Johannesburg, South Africa

Michelle Greve

Department of Plant and Soil Sciences, University of Pretoria, Pretoria, South Africa

http://orcid.org/0000-0002-6229-8506

David Hedding

Department of Geography, University of South Africa, Pretoria, South Africa

Greg G.J. Hofmeyr

1. Port Elizabeth Museum, Bayworld, Port Elizabeth, South Africa 2. Department of Zoology, Nelson Mandela University, Port Elizabeth, South Africa

http://orcid.org/0000-0003-0283-6058

Michael Kosch

South African National Space Agency, Hermanus, South Africa

Peter C. le Roux

Department of Plant and Soil Sciences, University of Pretoria, Pretoria, South Africa

Mike Lucas

Department of Biological Sciences, University of Cape Town, Cape Town, South Africa

Keith MacHutchon

Coastal Marine Technology Consulting Engineers, Cape Town, South Africa

Ian Meiklejohn

Department of Geography, Rhodes University, Grahamstown, South Africa

http://orcid.org/0000-0001-8890-2938

Werner Nel

Department of Environmental Science, University of Fort Hare, Alice, South Africa

Pierre Pistorius

Department of Zoology, Nelson Mandela University, Port Elizabeth, South Africa

Peter G. Ryan

FitzPatrick Institute of African Ornithology, University of Cape Town, Cape Town, South Africa

Johan Stander

South African Weather Service – Marine Research, Cape Town, South Africa

Sebastiaan Swart

1. Department of Oceanography and Marine Research Institute (Ma-Re), University of Cape Town, Cape Town, South Africa 2. Department of Marine Sciences, University of Gothenburg, Gothenburg, Sweden

Anne Treasure

1. Department of Oceanography and Marine Research Institute (Ma-Re), University of Cape Town, Cape Town, South Africa 2. Mammal Research Institute, Department of Zoology and Entomology, University of Pretoria, Pretoria, South Africa

Marcello Vichi

Department of Oceanography and Marine Research Institute (Ma-Re), University of Cape Town, Cape Town, South Africa

Bettine J. van Vuuren

Centre for Ecological Genomics and Wildlife Conservation, University of Johannesburg, Johannesburg, South Africa

http://orcid.org/0000-0002-5334-5358
Keywords:
SANAP, marine Antarctic research strategy, Antarctica, Prince Edward Islands, Southern Ocean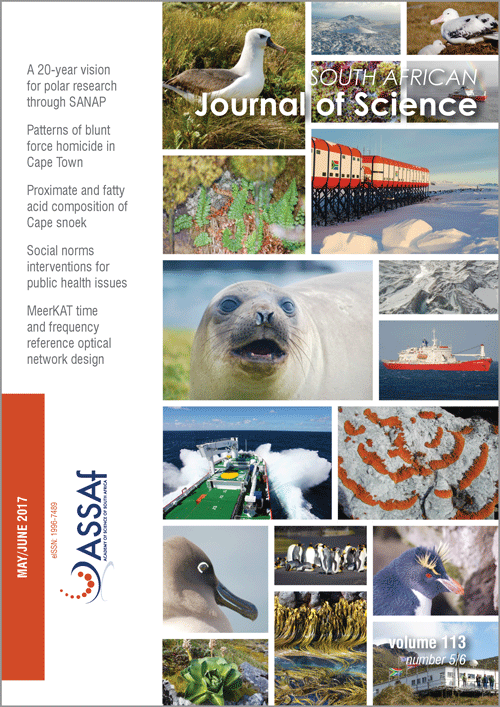 How to Cite
1.
Ansorge IJ, Skelton P, Bekker A, Nico de Bruyn P, Butterworth D, Cilliers P, Cooper J, Cowan DA, Dorrington R, Fawcett S, Fietz S, Findlay KP, Froneman WP, Grantham GH, Greve M, Hedding D, Hofmeyr GG, Kosch M, le Roux PC, Lucas M, MacHutchon K, Meiklejohn I, Nel W, Pistorius P, Ryan PG, Stander J, Swart S, Treasure A, Vichi M, van Vuuren BJ. Exploring South Africa's southern frontier: A 20-year vision for polar research through the South African National Antarctic Programme. S. Afr. J. Sci. [Internet]. 2017May30 [cited 2020Sep.19];113(5/6):7. Available from: https://www.sajs.co.za/article/view/3781

All articles are published under a Creative Commons Attribution 4.0 International Licence; copyright is retained by the authors. Readers are welcome to reproduce, share and adapt the content without permission provided the source is attributed.
Disclaimer: The publisher and editors accept no responsibility for statements made by the authors